Low FODMAP Garlic Infused Croutons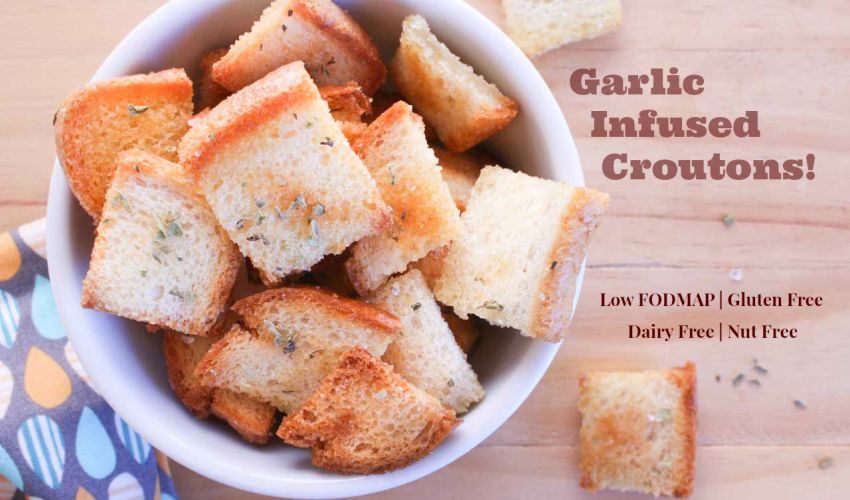 Details
Buying Tips
Gluten Free
Dairy Free
Low FODMAP garlic infused croutons are delicious! They are perfect on salads, dipped in soup, or simply eaten as a snack. I used low FODMAP garlic infused oil and gluten free bread to make sure these croutons are safe. You can read about why garlic infused oil is safe here.
Switch back from trace gluten free
Buy gluten free bread that does not contain any high FODMAP ingredients like inulin, apple or pear juice, apple fibre, concentrated fruit juices, honey, or high fructose corn syrup. Also check what low FODMAP flours have been used, avoid gluten free products that contain amaranth flour, lupin flour, garbanzo/besan flour, or large amounts of soy flour or coconut flour.
Garlic infused oil is found in the oil section of your local supermarket.
Wheat/gluten can be added to dried herbs and spices so check that they are gluten free.
Unless you have coeliac disease, then you do not need to worry about being trace gluten free while on the low FODMAP diet. Gluten is not a FODMAP and small amounts of wheat are low FODMAP.
Use a dairy free spread or olive oil spread instead of butter. Butter is considered low FODMAP.
INSTRUCTIONS
If you are using fresh or frozen gluten free bread lightly toast it under the oven grill for a couple of minutes to dry it out before using. Stale gluten free bread is ideal for this recipe.
Preheat the oven to 170ºC (340ºF) bake function.
Melt the dairy free spread (olive oil spread or butter) and garlic infused oil in a covered bowl in the microwave (this will take about 10 to 20 seconds on high).
Cut the gluten free bread into 2 cm (0.8 inch) cubes.
Place the bread croutons into a bowl, and pour over the infused butter mixture. Toss the bread croutons until they are evenly coated then season with a sprinkle of oregano, and a couple of grinds of salt.
Spread the croutons in a single layer on a baking tray and place on the middle rack in the oven. Cook for 10 to 15 minutes, until golden brown and crisp. Turn once while they cook. Quick Tip: Don't leave these unattended in the kitchen! They can brown quickly so keep an eye on them and remove just as they go golden.
Enjoy the low FODMAP garlic infused croutons hot or cold. I love using them in salads, as a side for soup, or just as a snack!

AUTHOR
Alana Scott

REVIEWED BY
Joanna Baker (APD)