Low FODMAP Banana Pecan French Toast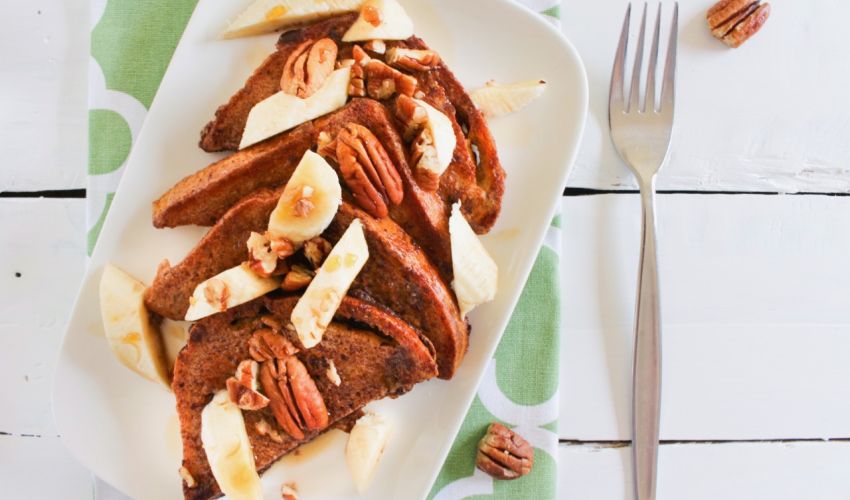 Details
Buying Tips
Gluten Free
Dairy Free
I am super excited to share our first low FODMAP guest recipe! This lovely Banana Pecan French Toast recipe is from registered dietitian, Stephanie Clairmont, and it is the perfect way to beat mid-week breakfast boredom. For my nut free followers you can replace the pecans with toasted sunflower and pumpkin seeds instead.
More info about Stephanie:
Stephanie Clairmont, MHSc, RD is an expert dietitian who was diagnosed with IBS in 2007. Since improving her own health, Stephanie has created BeyondFODMAPs.com to share her years of experience, insight, advice, and recipes as a go-to source for reliable information and a holistic plan to help you heal from IBS and IBD. Stephanie also teaches classes within the Beyond FODMAPs Insider's Club to help those who want a step-by-step plan to better manage digestive symptoms. Stephanie loves spending time with her family, hanging with her hubby and toddler, yoga, and meditation. 
FODMAP Note: Common bananas when they are firm (unripe) are low FODMAP in 100g serves, however they become high FODMAP for fructans when ripe (yellow with brown spots).
Switch back from trace gluten free
Buy gluten free bread that does not contain any high FODMAP ingredients like inulin, apple or pear juice, apple fibre, concentrated fruit juices, honey, or high fructose corn syrup. Also check what low FODMAP flours have been used, avoid gluten free products that contain amaranth flour, lupin flour, garbanzo/besan flour, or large amounts of soy flour or coconut flour.
Make sure you use pure maple syrup (low FODMAP) not maple flavoured syrup (potentially high FODMAP).
When using bananas make sure you use common bananas and not sugar bananas.
Wheat/gluten can be added to dried herbs and spices so check that they are gluten free.
Unless you have coeliac disease, then you do not need to worry about being trace gluten free while on the low FODMAP diet. Gluten is not a FODMAP and small amounts of wheat are low FODMAP.
Use a dairy free spread or olive oil spread instead of butter. Butter is considered low FODMAP.
INSTRUCTIONS
Place your large non-stick frypan on to warm over medium heat. Scramble the egg in a wide, flat bottomed bowl (think pasta plate) along with the cinnamon.
Place the gluten free bread one slice at a time in the egg, flip to cover entire bread. Make sure each of the slices soak up all the egg so none is leftover.
Add your dairy free spread (olive oil spread or butter) of choice to the frypan. Place the egg soaked bread into the pan and cook 2 to 3 minutes per side until slightly brown and toasty. Flip and cook the other side.
Serve on plate with a drizzle maple syrup, sliced banana, and a sprinkle of pecans (or toasted sunflower and pumpkin seeds).
Much love & good eating,

Stephanie from Beyond FODMAPs

AUTHOR
Alana Scott

REVIEWED BY
Stephanie Clairmont (RD)
RECIPE COLLECTIONS
Baking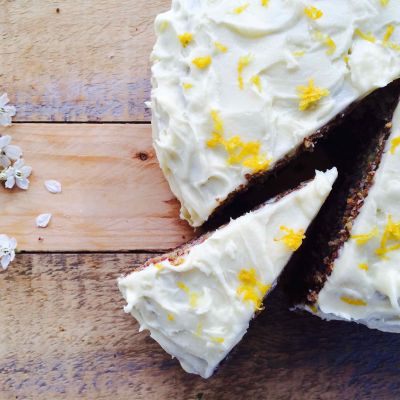 Vegetarian Options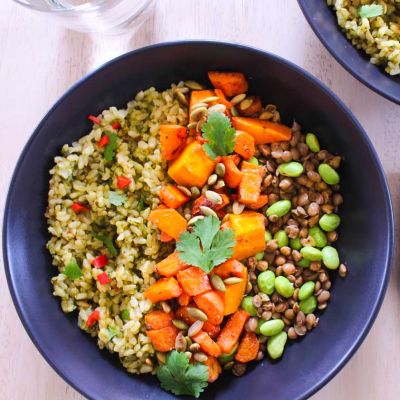 Lunch