Tasty Salmon Fritters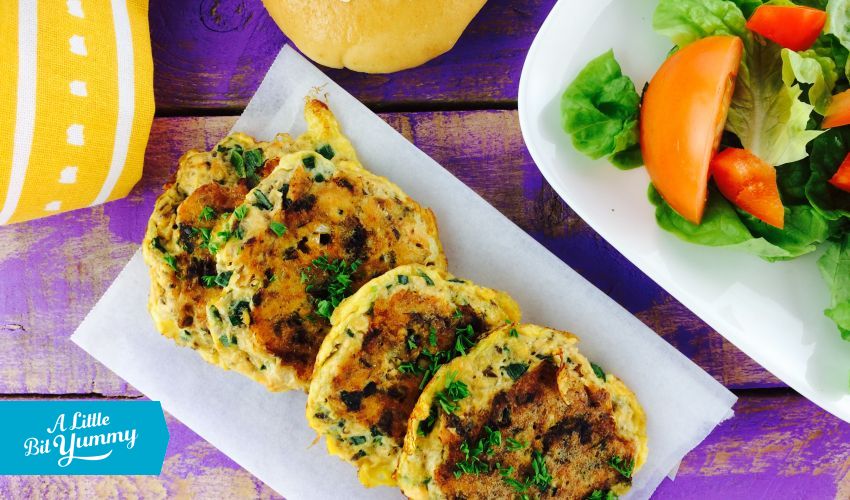 Details
Buying Tips
Gluten Free
Dairy Free
These tasty salmon fritters are easy to whip up for lunch or make as a tasty snack. Salmon is high in calcium (providing you leave the bones in), which is great for those of us on the low FODMAP diet who can't tolerate dairy products. These fritters make great burger patties or you can serve them on top of rice vermiclli noodles & stir-fried veggies. 

#LowFODMAP #GlutenFreeOption #DairyFree  #NutFree
Switch back from trace gluten free
Make sure you buy plain canned salmon that doesn't have added high FODMAP ingredients like onion or garlic. You can use fresh salmon if you prefer, but you will need to cook it first.
Check the crushed ginger does not contain garlic. Crushed ginger is grated ginger that has been preserved in a jar. You can swap it for fresh ginger if you prefer.
Buy gluten free burger bun that does not contain any high FODMAP ingredients like inulin, apple or pear juice, apple fibre, concentrated fruit juices, honey, or high fructose corn syrup. Also check what low FODMAP flours have been used, avoid gluten free products that contain amaranth flour, lupin flour, garbanzo/besan flour, or large amounts of soy flour or coconut flour.
If not all of your household need to be low FODMAP you can buy them normal burger buns.
Make sure the mayonnaise does not contain onion, garlic or other high FODMAP ingredients.
Make sure the mayonnaise is gluten free.
Unless you have coeliac disease, then you do not need to worry about being trace gluten free while on the low FODMAP diet. Gluten is not a FODMAP and small amounts of wheat are low FODMAP.
Make sure your mayonnaise is dairy free. Avoiding dairy in these products will help you reduce your lactose intake if you are on the low FODMAP diet.
NUTRITION
i
Nutrition Per Serve (Fritters Only):
i
Nutrition Per Serve (Fritters with Bok Choy & Vermicelli):
i
Nutrition Per Serve (Fritters with Burgers):
INSTRUCTIONS
Open and drain the can of salmon. Scrape the salmon into a medium size bowl. Thinly slice the green leek tips or spring onion tips. Lightly beat the egg and add it to the salmon along with the green leek tips (sliced), crushed ginger, toasted sesame oil, and some salt and pepper. Mix the ingredients well. The mixture will be quite chunky and wet.
Heat a large fry pan on medium heat and spray with non-stick oil (or rub olive oil around the pan with a paper towel). Place 1/4 cup measures of mixture directly in the pan (you should fit 4 patties per batch). The patties will need to be cooked for about 4 minutes per side until they are golden brown. Don't be tempted to flip with patties too early otherwise they will fall apart on you!

RICE VERMICELII & STIR-FRIED BOK CHOY OPTION

If serving with thin rice vermicelli noodles, measure the noodles into a separate medium sized bowl and cover with boiling water. Drain after 10 minutes.Wilt the shredded bok choy in a frypan for 3 minutes (I do this while cooking the patties). Serve the salmon fritters on top of the rice vermicelli and bok choy. Garnish with a dollop of mayonnaise if desired.

SALMON FRITTER BURGER OPTION

Warm the gluten free burger buns in the oven on high for about 5 minutes. Wash and shred the lettuce. Cut the tomatoes into slices or wedges. Serve the salmon fritters and salad in the gluten free buns with a dollop of mayonnaise.

AUTHOR
Alana Scott

REVIEWED BY
Kate Watson (RD)