Moroccan Chicken Salad with Orange Dressing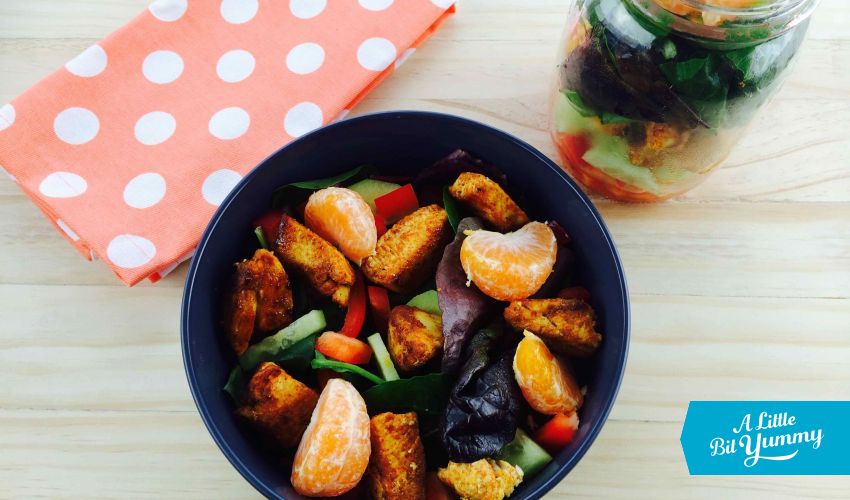 Details
Buying Tips
Gluten Free
This Moroccan inspired chicken salad is quick and easy to throw together. Each serve fits perfectly into a 500ml mason jar (preserving jar), which makes it super convenient to take to work! If possible cook the chicken the night before so it is completely cool before you put it in the jars – this will stop the salad from wilting. Make sure you keep the salad cool to keep it fresh (frozen chiller pads are great for this, if you don't have access to a fridge).
The flavours in the spice mix are inspired by the spices found in premade Moroccan spice mixes. Unfortunately most premade Moroccan seasonings contain onion or garlic, so this recipe uses a safe blend of FODMAP friendly spices.
#LowFODMAP #DairyFree #GlutenFreeOption #NutFree #SoyFree #EggFree
Switch back from trace gluten free
Garlic infused oil is found in the oil section of your local supermarket.
 Make your freshly squeezed orange juice from fresh oranges.
Make sure you use pure maple syrup (low FODMAP) not maple flavoured syrup (potentially high FODMAP).
Wheat/gluten can be added to dried herbs and spices so check that they are gluten free.
Unless you have coeliac disease, then you do not need to worry about being trace gluten free while on the low FODMAP diet. Gluten is not a FODMAP and small amounts of wheat are low FODMAP.
INSTRUCTIONS
Cut the chicken breast into cubes. Mix the garlic infused oil, cumin, coriander, paprika, turmeric, ground ginger, and white sugar together in a bowl. Then mix it through the chicken until the chicken is well coated. Season the chicken with salt and pepper.
Heat a non-stick frypan over medium-high heat. Once hot add the diced chicken. Stir-fry the chicken for 3 to 4 minutes until the chicken is golden brown and cooked through. Place aside to cool. If possible do this step the night before, and allow the chicken to cool in the fridge.
Make the orange dressing. Squeeze the juice out of the orange. Then mix together the olive oil, orange juice, maple syrup and salt. Season with a couple of grinds of black pepper.
Prepare the salad ingredients. Peel and slice the cucumber. Deseed and dice the red bell pepper. Peel and separate the mandarins.
If using mason jars, then place the salad ingredients into the jars in this order: orange dressing, red bell pepper, cucumber, chicken, lettuce leaves, and mandarin. Or place the ingredients in a bowl.
If taking to work make sure you keep the mason jar upright, so the dressing doesn't spill and keep the salad chilled so it stays fresh.

AUTHOR
Alana Scott

REVIEWED BY
Kate Watson (RD)
RECIPE COLLECTIONS
Drinks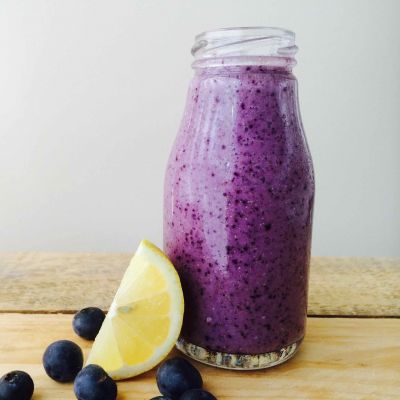 Condiments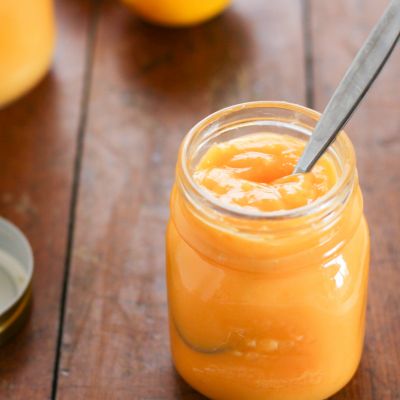 Lunch