Low FODMAP Vegetable Stock Concentrate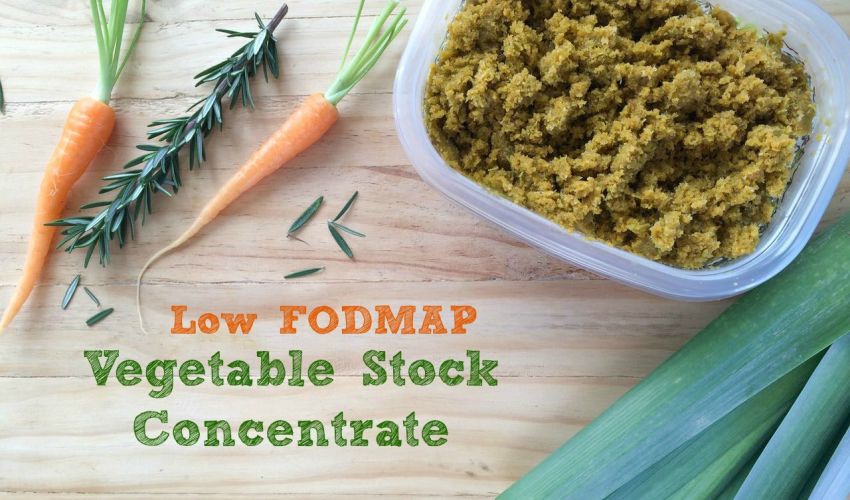 Can't find a low FODMAP vegetable stock? That's okay - I have a quick and simple recipe you can make in just 15 minutes (no cooking required). This stock concentrate freezes well and the salt helps give the concentrate a powder texture. This stock recipe doesn't contain a lot of salt compared to commercial stocks, so you may need to add an extra seasoning of salt and pepper to your meals as needed. So far my favourite use of this low FODMAP vegetable stock is in soup.
Note on celery & fennel: Both celery and fennel bulb can be high FODMAP in large serves. However, when mixed with water each cup of stock only contains 3.15g of fennel blub and 1.5g of celery, which is well within the safe low FODMAP serving sizes.
Switch back from trace gluten free
Make sure you buy a leek that has long green tips, as you can't use the white/light green leek bulb.
Choose semi sundried tomatoes that do not include onion and garlic in the brine.
INSTRUCTIONS
Scrub and roughly dice the carrots, roughly chop the celery, thinly slice the green leek tips, roughly chop the fennel bulb. Remove the fresh rosemary from the stem.
Place the carrot, celery, fennel bulb, leek tips, and sundried tomatoes into the food processor and pulse until they are finely chopped.
Scrape down the sides of the food processor, then add the fresh rosemary, thyme, and parsley along with the salt (the salt stops the concentrate freezing solid). Blitz until you have a smooth paste.
Transfer to a plastic container and freeze. Scoop out the stock concentrate as needed. Add about 1 tablespoon (25g) of stock concentrate to hot water to make 500ml (2 cups) of stock. Then use as desired in soups, stews, risotto, and other meals. This stock isn't very salty so season your dishes as needed.

AUTHOR
Alana Scott

REVIEWED BY
Joanna Baker (APD)