Low FODMAP Falafel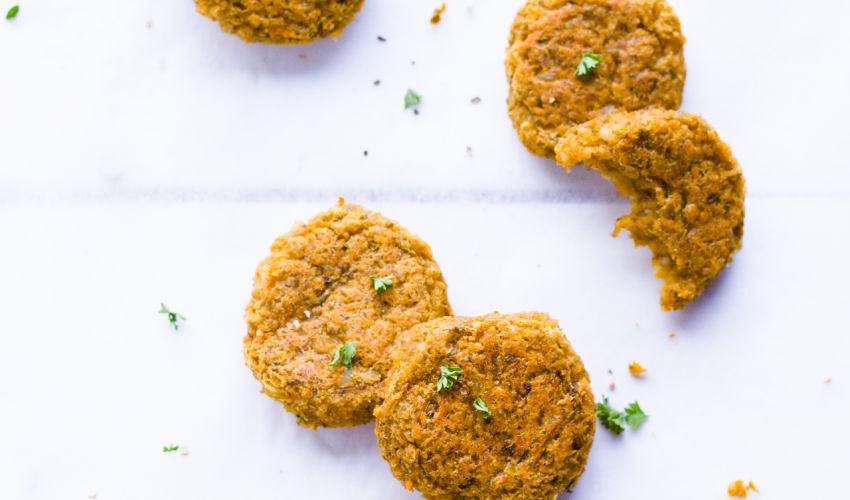 Details
Buying Tips
Gluten Free
Low FODMAP falafel is a great vegan option while on the low FODMAP diet. It's tasty, soft and crunchy all rolled into golden falafel medallions! I love serving these with a side of homemade garlic infused mayonnaise (vegan mayonnaise works well) to boost the flavour even further. Enjoy!
Low FODMAP Note On Chickpeas: According to Monash University, canned chickpeas are low FODMAP in 1/4 cup serves, as the FODMAPs leach out of the chickpeas and into the brine. Just make sure you wash and rinse them well before using. Take care to divide this recipe into at least four serves to stay within low FODMAP limits. 
Switch back from trace gluten free
Buy chickpeas canned in water (the oligosaccharides will leach into the water, which reduces the FODMAP content). Make sure you rinse the chickpeas well in water.
Make sure you buy a leek that has long green tips, as you can't use the white/light green leek bulb.
Choose a medium-grain brown or white rice that can be cooked quickly in the microwave.
Garlic infused oil is found in the oil section of your local supermarket.
Buy a gluten free plain flour or gluten free all purpose flour. The one I used contains these ingredients: maize starch, rice flour, tapioca starch, rice bran, & guar gum. Avoid flour blends that contain soy flour, garbanzo bean flour, amaranth, or lupin flour.
Wheat/gluten can be added to dried herbs and spices so check that they are gluten free.
Unless you have coeliac disease, then you do not need to worry about being trace gluten free while on the low FODMAP diet. Gluten is not a FODMAP and small amounts of wheat are low FODMAP.
NUTRITION
i
Nutrition Per Serve (4 pieces of falafel):
INSTRUCTIONS
Prepare the falafel. Pre-cook the microwavable brown rice. Grate the carrot and place to one side (you can do this in the food processor). Zest and juice the lime, roughly chop the fresh parsley and the green leaves of the leek. Wash and drain the canned chickpeas.
Place all of the ingredients in the food processor. Blend until it forms a smooth paste (if the mixture is too dry then add a tablespoon of water).  Once it is well combined, stir through the gluten free flour (the paste should be just dry enough to handle).
Two Options For Cooking:
In the oven: If you are feeling lazy and love crispy falafel then this option is for you! Preheat the oven to 190ºC (375ºF) bake function. Line a baking tray with baking paper. Grease the baking paper with 1 tablespoon of olive oil (this helps the falafel go crispy). Scoop out the falafel using a tablespoon measure and form into small patties. Space them evenly on the tray. Brush the tops with a tablespoon of oil. Bake for about 12 minutes each side, until golden brown.
In the frypan: If you like softer falafel and have the brain power to pay attention and not burn them, then try this option. Heat a large non-stick frypan over medium high heat. Grease the pan with 1 tablespoon of olive oil. Once hot, measure out the falafel using a tablespoon measure and shape into patties. Place in the frypan and cook each side for 2 to 3 minutes until golden. Turn down the heat if they start to burn, and add more oil as needed. Once cooked, place on a paper towel to drain. Cook the falafel in several batches.
Serve with a low FODMAP dressing. Our favourite is garlic infused mayonnaise: mix lemon or lime juice with mayonnaise (use vegan mayonnaise if needed), black pepper and a drizzle of garlic infused oil. Make sure you divide the falafel into the recommended number of serves to keep the recipe low FODMAP (this is normally 3 to 4 pieces of falafel per person).

AUTHOR
Alana Scott

REVIEWED BY
Joanna Baker (APD)
RECIPE COLLECTIONS
Vegetarian Options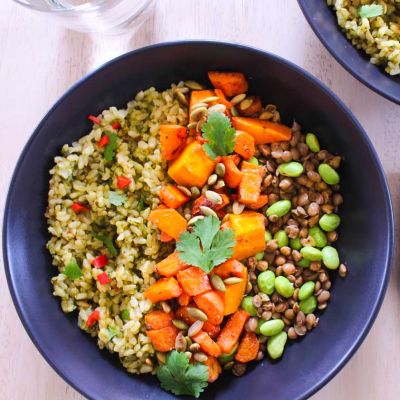 Lunch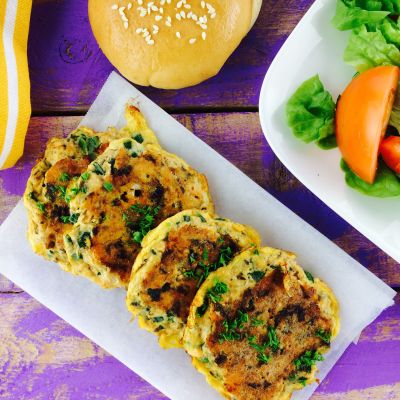 Condiments