Frozen Virgin Piña Colada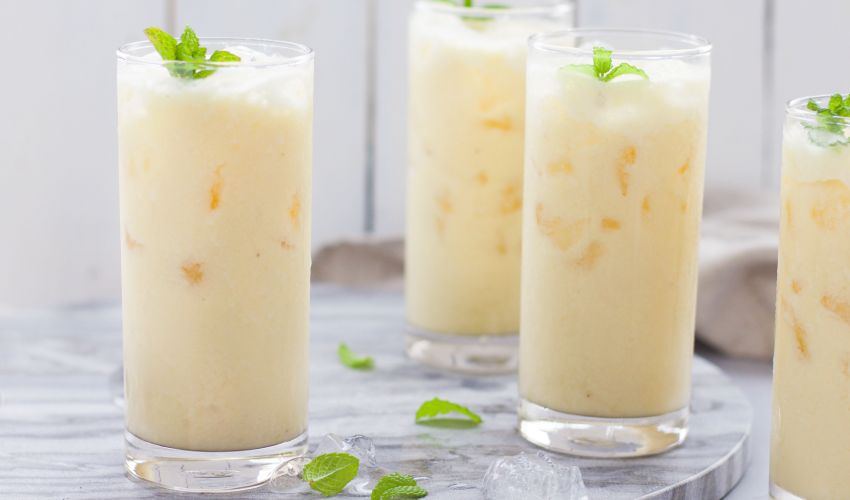 Need a drink to have as a treat? Virgin piña coladas combine the delicious flavours of banana, coconut and pineapple to create a refreshing drink! Make sure you freeze the banana and make the sugar water in advance to speed up the prep. This recipe contains four safe serves of low FODMAP fruits, which means you need to divide it into four serves to keep it low FODMAP.
Cooking Tip: Prepare the sugar water in advance and have it waiting in the fridge. That way you won't have to wait for the sugar water to cool when you are ready to have your refreshing drink.
#lowFODMAP #DairyFree #NutFree #GlutenFree #SoyFree #EggFree
Note on coconut milk: According to Monash University canned coconut milk is low FODMAP at a 80ml (1/3 cup) serve. This recipe only contains 1/2 cup of coconut milk divided between four serves, which means it is well within the low FODMAP limits.
FODMAP Note: Common bananas when they are firm (unripe - green or just yellow) are low FODMAP in 100g serves, however they become high FODMAP for fructans when ripe (yellow with brown spots).
Switch back from trace gluten free
INSTRUCTIONS
Make the sugar water. Place the white sugar and water into a small saucepan. Stir until the sugar dissolves. Bring the water to the boil. Remove from heat and transfer into a container. Place in the fridge or freezer to cool. While the sugar water cools, cube the pineapple.
Place the coconut milk, sugar water, frozen banana, vanilla essence, and cubed pineapple in a blender. Blend until smooth.
Place a few pieces of cubed pineapple with some crushed ice into four glasses. Divide the mixture between the glasses. Garnish with fresh mint and cubed pineapple pieces if desired.
Serve immediately.

AUTHOR
Alana Scott

REVIEWED BY
Kate Watson (RD)