Curry Quinoa Fritters with Low FODMAP Aioli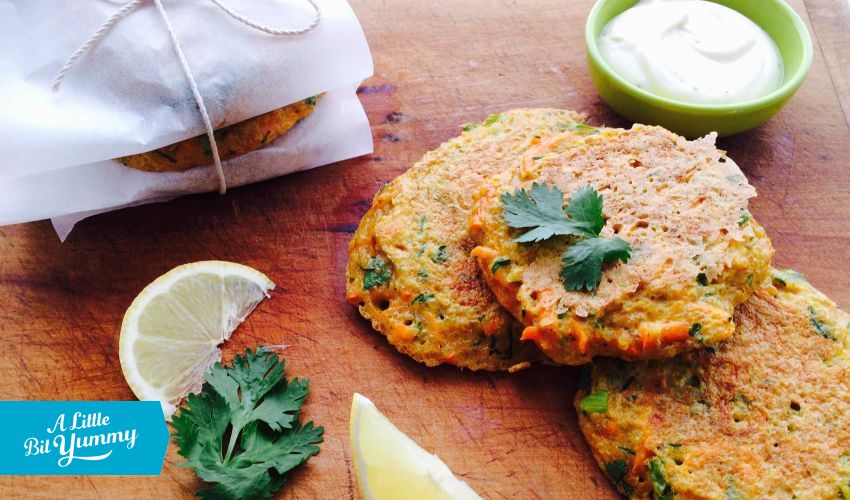 Details
Buying Tips
Gluten Free
Dairy Free
These curry quinoa fritters make a great starter dish, or take to work lunch. The hint of curry and fresh herbs goes perfectly with the carrot and quinoa in the fritters. In this recipe I also teach you how to make low FODMAP aioli using garlic infused oil. These fritters are simple to make, which means you can easily prep another dish while waiting for the fritters to cook.
Switch back from trace gluten free
Quinoa is pronounced KEE-noh-ah and can be found in the bulk bins or with the rice in most supermarkets.
Make sure the low FODMAP chicken stock/vegetable stock and mayonnaise do not contain onion, garlic or other high FODMAP ingredients.
Only use the green tips of the spring onion and not the white stem.
Check the mild curry powder does not include onion or garlic powder.
Buy a gluten free plain flour or gluten free all purpose flour. The one I used contains these ingredients: maize starch, rice flour, tapioca starch, rice bran, & guar gum. Avoid flour blends that contain soy flour, garbanzo bean flour, amaranth, or lupin flour.
Garlic infused oil is found in the oil section of your local supermarket.
Make your lemon juice from fresh lemon.
Make sure the low FODMAP chicken stock/vegetable stock, mild curry powder, and mayonnaise are gluten free.
Wheat/gluten can be added to dried herbs and spices so check that they are gluten free.
Unless you have coeliac disease, then you do not need to worry about being trace gluten free while on the low FODMAP diet. Gluten is not a FODMAP and small amounts of wheat are low FODMAP.
Make sure your mayonnaise is dairy free. Avoiding dairy in these products will help you reduce your lactose intake if you are on the low FODMAP diet.
INSTRUCTIONS
Rinse the quinoa under running water using a fine mesh sieve for 40 seconds (this will help remove the bitter taste). Place the quinoa in a medium saucepan with the olive oil, and toast for 1 minute over medium high heat. Then add the chicken/vegetable stock. Bring to a rolling boil. Turn down the heat to medium low and allow to simmer until cooked (about 12 to 15 minutes). Remove from heat once the quinoa is soft (it's okay if it is still a little bit wet).
While the quinoa cooks, peel and grate the carrot. Finely chop the chives, fresh cilantro, and spring onion (green tips only).
Whisk the eggs and gluten free all purpose flour in a large bowl until relatively smooth (a few flour lumps are okay). Then add the curry powder, paprika, carrot, chives, fresh cilantro, and green onions/scallions  (green tips only). Mix well. Then mix through the cooked quinoa. Season generously with a few grinds of salt and pepper.
Heat a large frypan over medium heat. Wait until the frypan is hot and then measure out ¼ cup scoops of mixture. Fry for about 3 to 4 minutes per side (flip once the side is golden). Cook the fritters in batches.
While the fritters cook make the aioli. Mix the mayonnaise, garlic infused oil, and lemon juice together in a small bowl. Season with black pepper. Taste and adjust flavours as desired.
Serve the cooked curry quinoa fritters with the low FODMAP aioli on the side. These make a great low FODMAP lunch option  – just wrap them in baking paper before taking to work.

AUTHOR
Alana Scott

REVIEWED BY
Kate Watson (RD)