Coconut Chilli Chicken Noodles with Veggies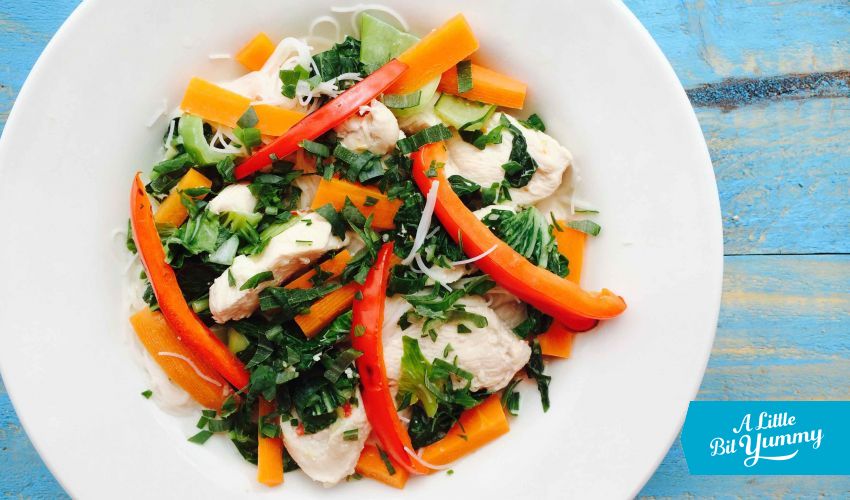 Details
Buying Tips
Gluten Free
This Asian inspired dish is super easy to throw together and its laksa-like sauce has a fresh lemon coconut taste with just a hint of chilli.
#LowFODMAP #GlutenFreeOption #DairyFree #EggFree #NutFreeOption #SoyFreeOption
Note on canned coconut milk: Canned coconut milk used for cooking has been tested by Monash University and it is only low FODMAP in 80ml (1/3 cup) serves. This means you need to measure out your coconut milk carefully to avoid a high FODMAP serve.
Switch back from trace gluten free
Fresh lemongrass is found with the fresh herbs in the chilled section of the vegetable aisle. Avoid using lemongrass paste as it often contains lactose or onion/garlic powder.
Check the crushed ginger does not contain garlic. Crushed ginger is grated ginger that has been preserved in a jar. You can swap it for fresh ginger if you prefer.
Make sure your crushed/pureed red chilli does not include onion or garlic.
Crushed/pureed red chilli is just fresh red chilli that has been pureed into a paste (usually with a bit of salt and a preservative). Often you can find it in jars in the supermarket. If you can't find it, then you can replace it in the recipe using finely chopped mild red chilli.
Choose a coconut milk that does not contain inulin or high FODMAP sweeteners.
Only use the green tips of the spring onion and not the white stem.
Make sure the Thai fish sauce (nam pla) is gluten free.
Unless you have coeliac disease, then you do not need to worry about being trace gluten free while on the low FODMAP diet. Gluten is not a FODMAP and small amounts of wheat are low FODMAP.
INSTRUCTIONS
Prepare the chicken breast by slicing it into thin strips and put to one side. Peel outside skin off lemongrass and finely chop the centre core. Finely chop the green onions/scallions  (green tips only), wash and roughly chop the bok choy, peel and slice the carrots into matchsticks, and deseed and thinly slice the red bell pepper. Place to one side.
Place the sliced chicken breast in a large saucepan and cover with cold water (add more water if the chicken isn't completely covered). Then add the chopped lemongrass and crushed ginger. Bring the water to a rolling boil. Then turn the element down to medium-low and allow to simmer for 5 to 10 minutes, until the chicken turns white and is cooked through. This process creates the stock for your meal. Keep the stock and remove the chicken, placing it to one side for later.
While the chicken cooks. Place the rice noodles in a bowl and pour boiling water over them. Set them aside for ten minutes before draining. Or cook according to packet directions. Rinse the noodles in warm water, drain again, and toss with a dizzle of sesame oil to stop them sticking together.
Add the chilli puree, fish sauce, and bok choy into the stock. Now the fish sauce has a very pungent odour, which may make you lose faith in your meal… Don't! The odour will disappear once you add the coconut milk and will taste fantastic. Cook the stock for about 2 minutes before adding the coconut milk, chicken and noodles (you set these aside earlier). Heat for another 3 minutes or until the chicken is heated through. Taste and add more chilli puree if needed.
While you finish cooking the coconut chilli chicken, place a large frypan on to heat over medium high heat. Stir-fry the carrot matchsticks and red bell pepper for two to three minutes until tender.
Serve the coconut chilli chicken noodles with the stir-fried veggies, top with green onions/scallions  and peanuts (if desired).

AUTHOR
Alana Scott

REVIEWED BY
Kate Watson (RD)
RECIPE COLLECTIONS
Vegetarian Options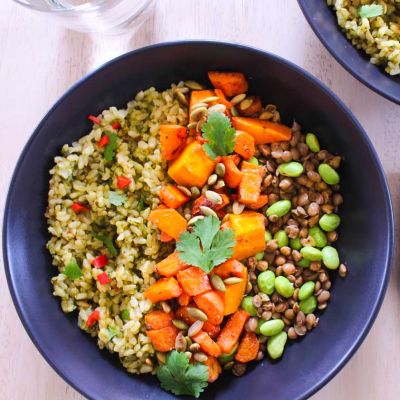 Christmas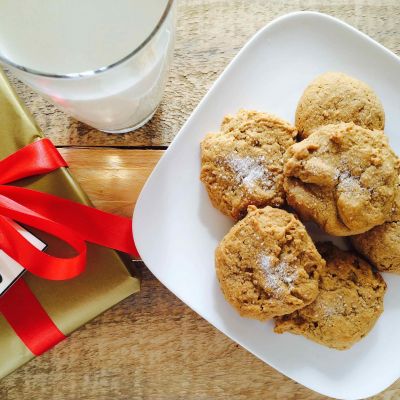 Dessert